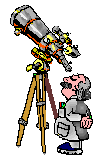 I having been working together with Joe (OzEclipse) to sub for Ray (Raymondhow) for a while.
Joe did the quiz for July & September. I did the one for August. Now I am uploading the one for October.
Here's the link:
https://docs.google.com/forms/d/e/1FAIp ... _form_link
The best score possible is 20/20.
Remember:
1. No online research allowed. No peeking at your astronomy atlas. It's just you and the quiz.
2. On multiple choice questions, feel free to guess. You may get lucky!
3. If you have a comment about a question when posting on this thread, please do NOT give away the correct answer!
If you want others to know what score you got, post it here.
Enjoy!
BABO