ASKING PRICE: $350
Last year I bought a Canon 50D astro-modified DSLR from a vendor on Cloudy Nights. I wanted an astro-modified DSLR and thought this was a good choice because the images on Astrobin done with this model are very nice. I failed to realize that, here on the equator, this particular DSLR would have trouble with the heat. The sensor on the camera runs at about 40C -- really hot. Even a 120s sub at 1600iso has a lot of noise.
So, as nice as the camera is, I need to sell. In the meantime, I did what I probably should have done all along, which is to get my Fujifilm X-A1 astro-modded. I have not had a chance to use it yet -- just got it back. But the Fuji X-A1 performed well in the equatorial conditions even when using iso6400.
Anyway, long story short: I am selling my Canon 50D. BTW, that is not a typo. Yep, it's the 50D model. Asking $350.
Comes with:
1) DSLR -- astro-modified (body only -- no lens)
2) Low Shutter Count = 16,000 only
3) Power pack battery with adapter (runs with either 110V or 220V).
4) Camera grip with 2 normal batteries (but I have noticed that neither battery lasts very long)
5) battery charger
6) Long tether cable to attach camera to a laptop: 15 feet long
7) 2gb memory card
8) Camera bag
All this for $350. Buyer pays shipping. If you are in the continental United States, that shipping should be about $20. With time, I could manage to ship to UK. But I'm mainly targeting US or Canada at this point, since a friend of mine is travelling from Nairobi Kenya to Chicago in mid-January.
BABO
PS Attached is an image I did of M31 using my Canon 50D, using 70 x 120s subs. I wanted 300s subs but the noise on the sensor made it impossible to get anything longer than 120s -- and even the 120s subs were very noisy.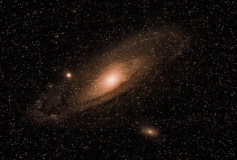 Also attached are pictures of the Canon 50D that is for sale. ... ... ...