Inter-Galactic Ambassador
Articles: 0
Posts: 4387
Joined: Sun May 12, 2019 2:54 am
2
Location: Charlotte, NC, USA
Clear Skies,
-Jeff

Orion 127 Mak, ST80
Celestron Celestar
8SE, C90 Mak
Coronado PST
A big box of Plossls
Little box of filters

Member; Charlotte Amateur Astronomy Club.
Infinity and Beyond Ambassador
Articles: 0
Posts: 11755
Joined: Fri May 10, 2019 4:13 pm
2
Location: Idaho US
Thanks. I can't stress enough about the gravity of the situation!
Jupiter's a chronic overeater and seems to have no end of appetite.
Seriously, events like these make life on Earth possible. Without Jupiter (and friends) we'd be toast.
Scopes: Refs: Orion ST80, SV 80EDA f7, TS 102ED f11 Newts: Z12 f5; Cats: VMC110L, Intes MK66,VMC200L f9.75 EPs: KK Fujiyama Orthoscopics, 2x Vixen NPLs (40-6mm) and BCOs, Baader Mark IV zooms, TV Panoptics, Delos, Plossl 32-8mm. Mixed brand Masuyama/Astroplans Binoculars: Nikon Aculon 10x50, Celestron 15x70, Baader Maxbright. Mounts: Star Seeker III, Vixen Porta II, Celestron CG5, Orion Sirius EQG
Inter-Galactic Ambassador
Articles: 0
Posts: 3043
Joined: Mon Nov 09, 2020 2:49 am
Location: canada
thx
I LOVE REFRACTORS ,

takahashi 100 dz

Lunt 60mm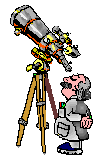 sw 120 ed

Televue 60 mm ed
EYEPIECES, all Delos .
"Many of life's failures are people who did not realize how close they were to success when they gave up."– Thomas A. Edison
Jean-Yves