We call them "hobby killers." The facts are that (1) for a child interested in science, any telescope is better than no telescope and (2) not every family can afford a $1500 dobsonian for a child who might soon find more reward and success in music, drama, sports, or computers and (3) to be useful telescope cannot be bigger than the kid. The real "hobby killer" is a lack of social support and that applies to anyone new to the hobby, adults as well as children.
First, it is important to separate instruments from toys. Undoubtedly, a toy telescope with a plastic lens will do little to stimulate an interest in astronomy. With that out of the way, I will advocate for the $129 3-inch refractor as an ideal entry-level instrument. It will serve a child until she is old enough to spend her own $700 to $1500 on her next telescope, whether or not she eventually majors in astronomy or any science at all. For an adult with a middle class career or without over-arching family obligations, that first telescope will be in the mid-range or above.
Hobbies are expensive. So are children. Here in Austin, Texas, the median wage for an automotive mechanic is $40,635 per year (Glassdoor) up to $25.02 per hour (Indeed). A carpenter makes between $19.26 and $19.96 per hour (Indeed). The US Census Bureau sets median household income (1.5 wage earners) at $61,937. The Social Security Administration says $50,000 average personal income nationwide – tech billionaires added into auto mechanics and divided by 100 million. So, who can afford what is pretty much a matter of economic circumstance.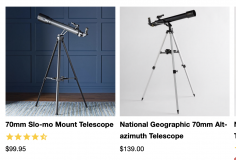 Last night, I used a National Geographic 70 mm refractor to identify the Andromeda Galaxy after viewing the Orion Nebula and the Pleiades. I live in the city of Austin, a mile from a major shopping center.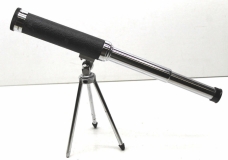 My first telescope was a Tasco 30 mm (1 ½ inch) bird-watcher. I got it for Christmas shortly after I turned nine. I might have viewed the Moon a couple of times. I might have tried it on Venus. Mostly, I used it to look across the backyards to see if my friends were out playing. The next summer, out in the backyard, one of our neighbors, a young doctor, pointed to a bright star. "I think that's a planet," he said. At his suggestion, I got the telescope. He lined it up and declared, "Saturn." He turned it over to me and with a little adjustment, there it was: Saturn.
The story behind the National G refractor is that neighbor kids got it as Christmas present from an uncle. By July when I bought it, the kids had wrecked it. The oculars were gone as were the cellphone adapter, the altitude adjustment knob, and the center tray. The dew shield was jammed on backwards. Sadly, their father earned a BS degree and worked in a highly technical field. He never went out with them. I know that because the finder scope is a "red dot" LED and the little plastic insulator tab was still between the battery and the contact. It was not the telescope that killed the hobby for the kids: for them, astronomy was stillborn for the lack of adult supervision. It might be nice if parents had the same passion for astronomy that makes them ruin little league sports by arguing with the field judge and taking a swing at the coach.