Most Newtonian reflectors have parabolic mirrors. A Bird-Jones has a spherical mirror because they are easier to manufacture. The spherical aberation is corrected with a lens inside the focuser.
See also Wikiepeda on Newtonians
https://en.wikipedia.org/wiki/Newtonian_telescope
and scroll down to Jones-Bird.
This Wikipedia image shows that a parabola focuses all incoming light to one point:
(The other way to think of this is that your automobile headlights are parabolic mirrors with the lamp at the focus. The beam is a column of parallel rays.)
A spherical reflector must of necessity create a fuzzy image where the "focus" should be.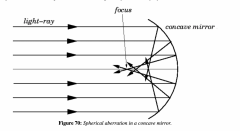 (From the University of Texas physics department. Prof. Richard FitzPatrick.)
http://farside.ph.utexas.edu/teaching/3 ... de136.html
Of all the inexpensive beginner telescopes on the market right now (2019), the Celestron 127
EQ
is apparently the best-selling model with the Jones-Bird design. The consensus in the hobby is that this design should be avoided by the amateur astronomer. It is offered because of the reduced cost and (as a positive feature) because it allows a shorter length tube for easier travel. Those factors being as they may, other solutions to those problems are better.
"A good way to tell if a telescope is a Bird-Jones is to compare the focal length to the physical length of the telescope tube. The above-mentioned [Celestron 127 EQ] PowerSeeker has a focal length of 1,000 mm, but the physical tube size is 508 mm. This means that there must be something to double the effective focal length, which would be the correcting Barlow lens." --
http://astrowiki.jmhastronomy.com/index ... _Telescope