Reviews
[ Comments (20) ] | [ Back ]
Baader 1.25" Classic Q-Eyepiece Set Review
by Bigzmey
Typically, I advise against buying EP kits. In most cases you don't save much over buying individual EPs and end up using only a fraction of what is included. This set however is a happy exception. Not only does it provide a substantial savings over buying individual components, but they also are designed to work well as a set.
Baader 1.25" Classic Q-Eyepiece Set comes in a nice-looking cardboard box.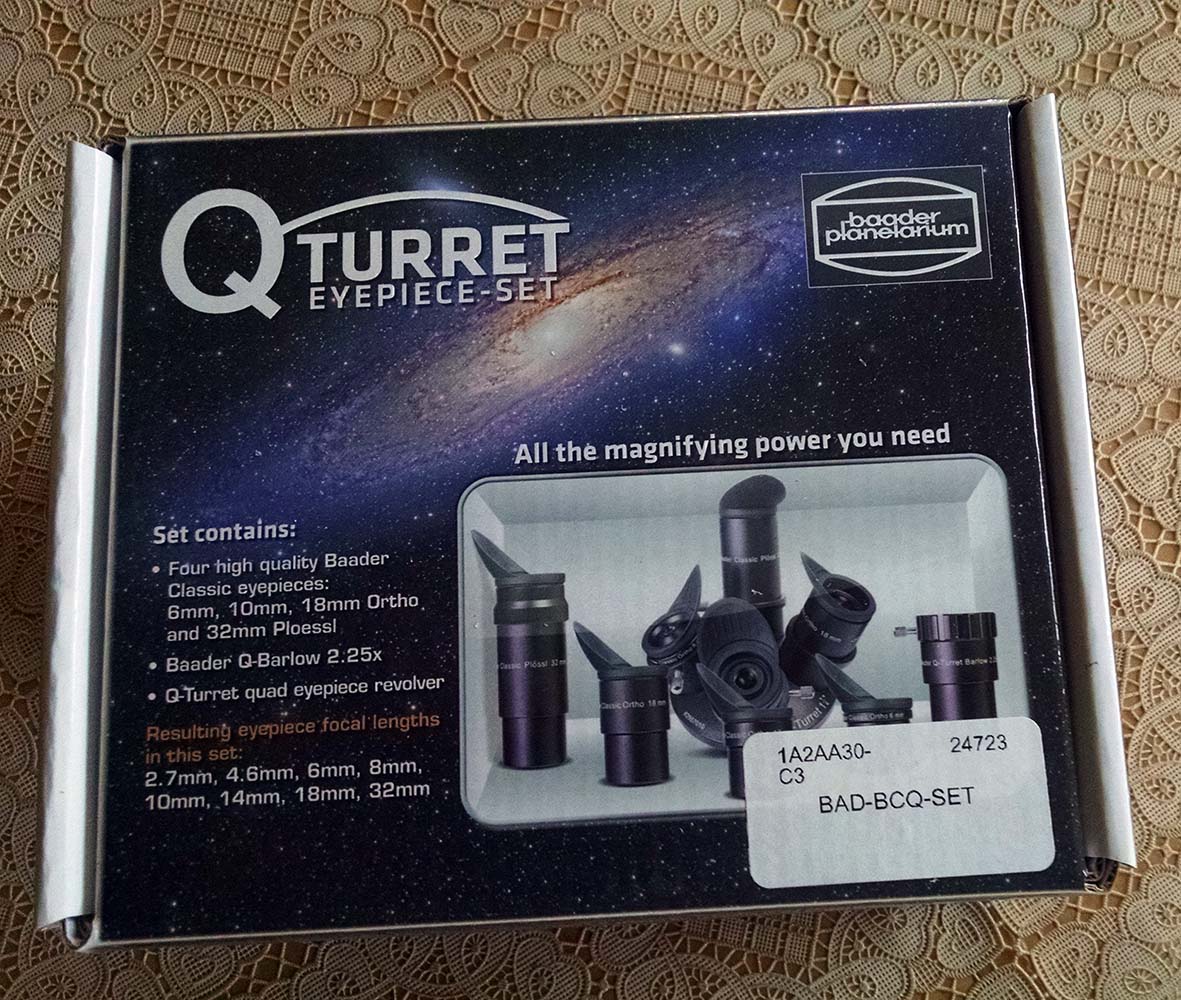 Once you opened it…There is another, metal box inside!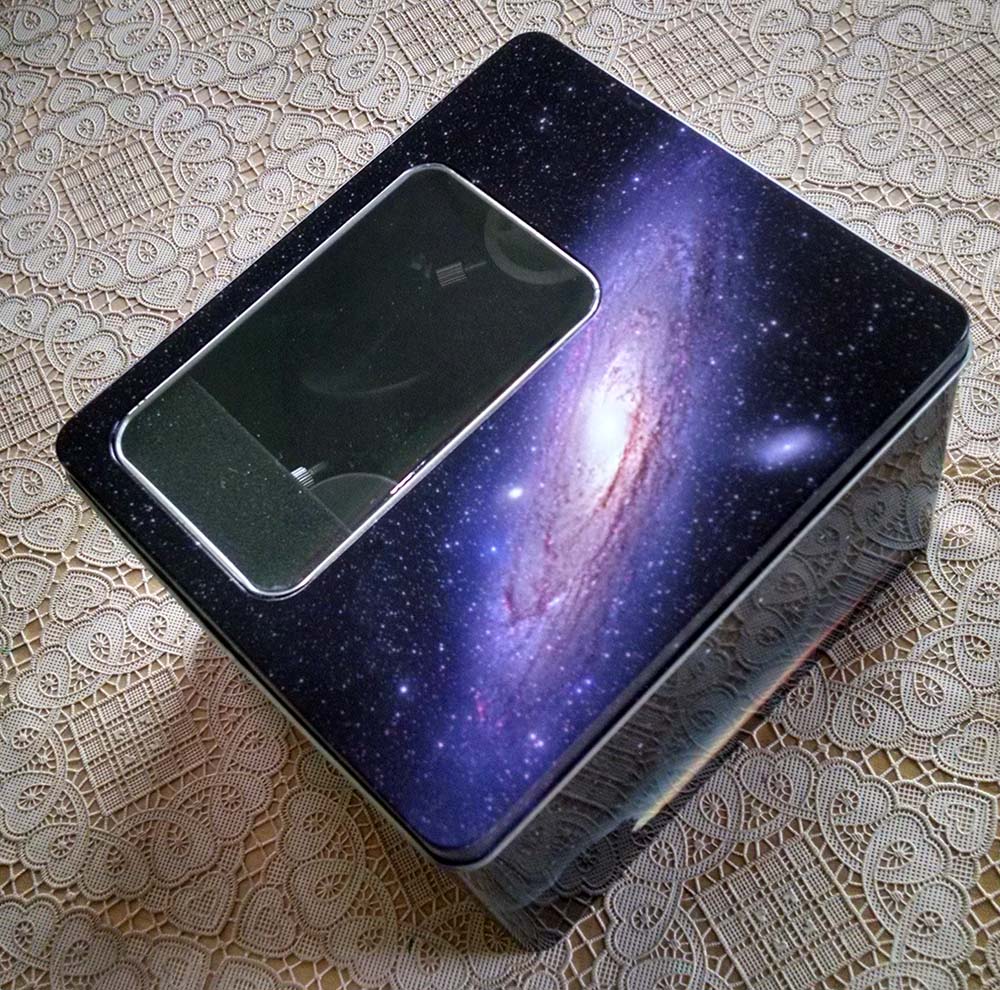 I would prefer all metal case over flimsy plastic window, but it does provide a convenient way to store and transport the set.
When I opened the led, the Q-turret set was neatly packed with foam, preassembled and ready to go.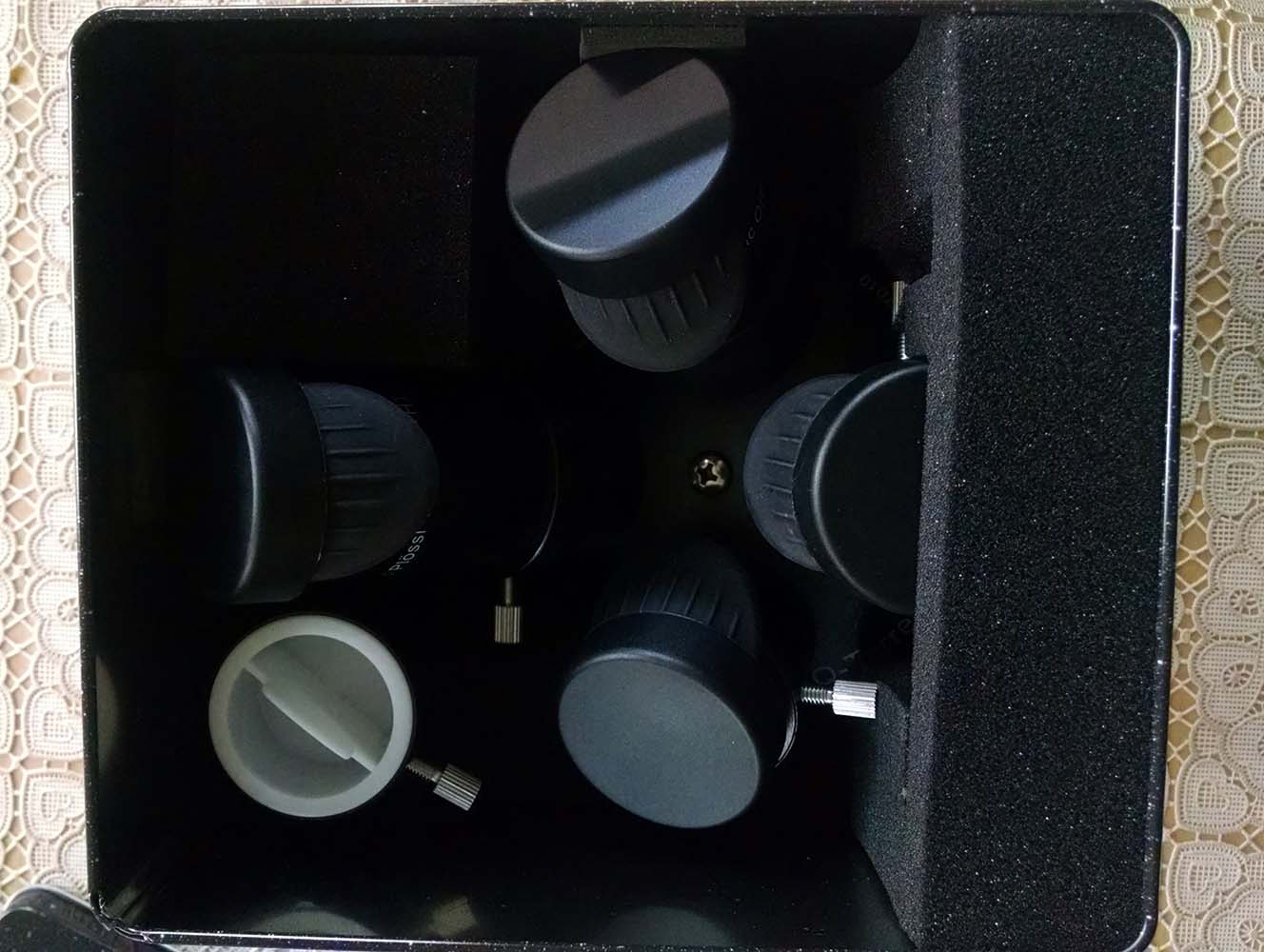 The set consists of Q-turret EP revolver, 6mm, 10mm and 18mm Baader Classic Orthos (BCO), 32mm Plossl, Q-Barlow and a mystery plastic adaptor. EPs and barlow are all metal but lightweight construction (EPs with rubber winged eyeguards). Q-turret is mostly plastic.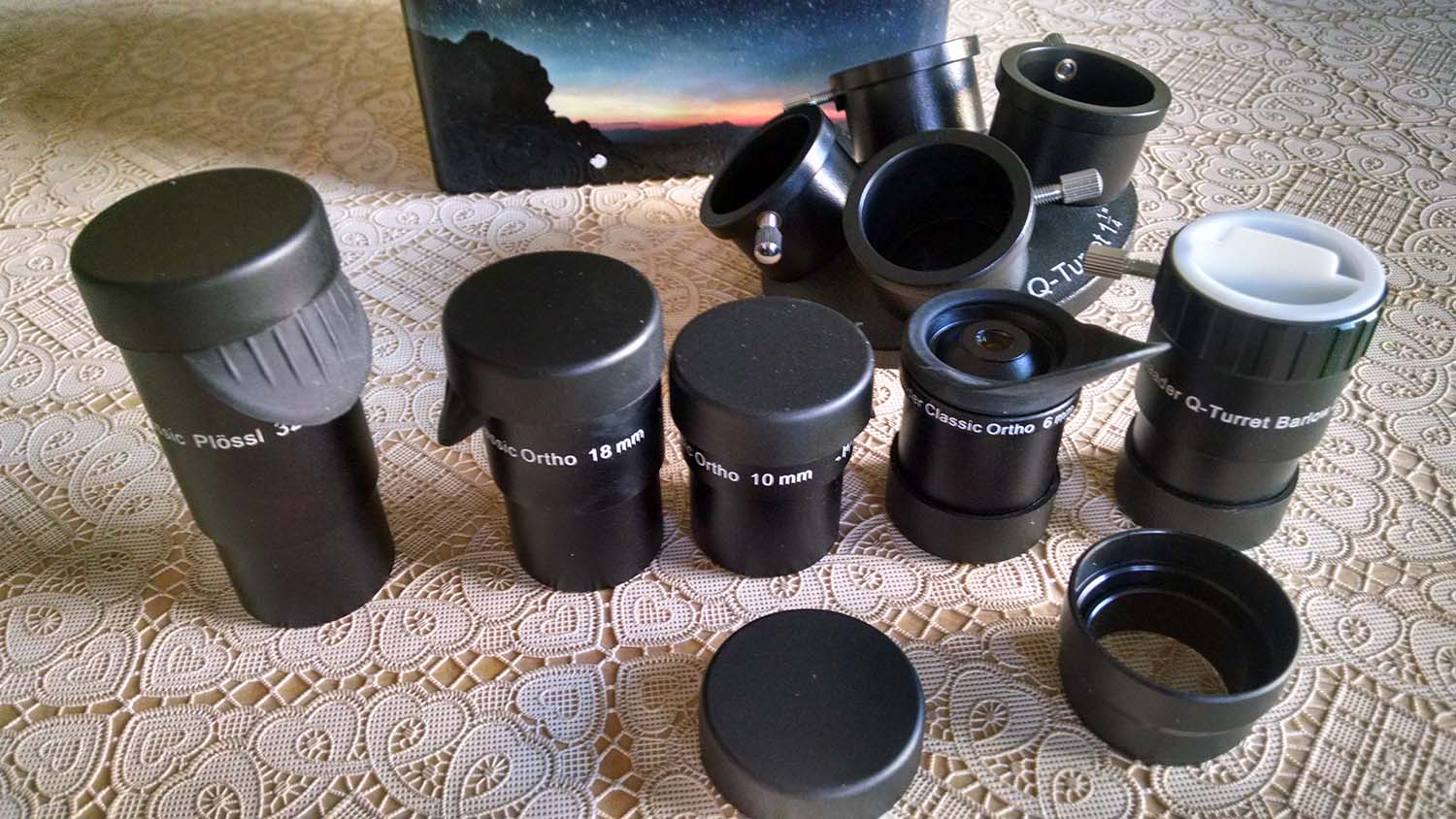 If you feel Q-turret is a bit too much, don't worry. Even if you never use it the set still provides substantial saving over buying the EPs and barlow, piece by piece.
Let's start with EPs.
Have you ever seen this "equation" for EPs prices?
Optical quality (sharpness, contrast, light transmission) +$
Wide field of view + $
Long eye relief + $
Field correction + $
All together = $ $ $ $
No wonder that premium EPs run in hundreds of dollars. However, if you are willing to forgo wide field of view and long eye relief these sets of EPs deliver image quality on pair with top of the line TeleVue and Pentax EPs, for the set price of a single premium EP. And I am not exaggerating, not a tiny bit. In terms of sharpness and contrast they are as good (arguably even better) than Naglers and Delos. I love evaluating EPs and dozens went through my hands over the years. These Baader Orthos continuously delivered top level lunar and planetary views and helped me to split many tight doubles.
But there is more, (and I am not getting commissions from Baader :D). These EPs have high transmission coatings (HTS) and when Baader says high transmission they mean it. These BCOs pulled for me dozens of very faint galaxies, when Explorer Scientific and TeleVue EPs did not deliver. As far as light transmission goes, in my hands they have been only beaten by the legendary Pentax XWs, and even then, not by a large margin.
18mm, 10mm and 6mm are of 4 element orthoscopic design but have fields of view of 50 degrees, about 50% larger than typical 40 degree orthos. 32mm EP is of 4 element Plossl design, but ironically has a narrower FOV (~43 deg) than typical 50 deg Plossl. However, it is lighter and slimmer than most of the other 32mm Plossls. This set performs nicely in all types of scopes (reflectors, refractors and catadioptrics). 32mm and 18mm have good eye relief. It gets tighter but manageable in 10mm and 6mm. If you like me observing with eyeglasses, you would need to take them off for those two.
Q-barlow included in the set is of good quality. In my tests it has fallen somewhat behind top tier barlows like TeleVue but outperformed many mid-range barlows. What goes for it is its light weight, small size and unusual 2.25x factor. The nosepiece can be screwed into BCOs to give 1.3x factor. EP is secured in the barlow with a single thumb screw. I would prefer a compression ring. Ironically, though most of my favorite barlows don't come with compression rings. Q-barlow works nicely with other EPs in my collection, not just BCOs. However, the nosepiece is quite long, so you can get 1.3x factor only with simpler EPs which have plenty of room in the barrel to accommodate it.
Combination of the barlow and four EPs in this set provide 12 different focal lengths (2.7mm, 4.4mm, 4.6mm, 6mm, 7.7mm, 8mm, 10mm, 13.8mm, 14.2mm, 18mm, 24.6mm, 32mm), enough to cover any range of targets in fast to mid-range scopes, F4 to F10. In slower scopes you will find that 6mm EP is seldomly used and you would want to add 40-50mm EP to cover the lower range of powers.
The only two limitations of this set are short eye relief in 6mm and 10mm EPs, and relatively narrow field of view. This is where the Q-turret comes into play.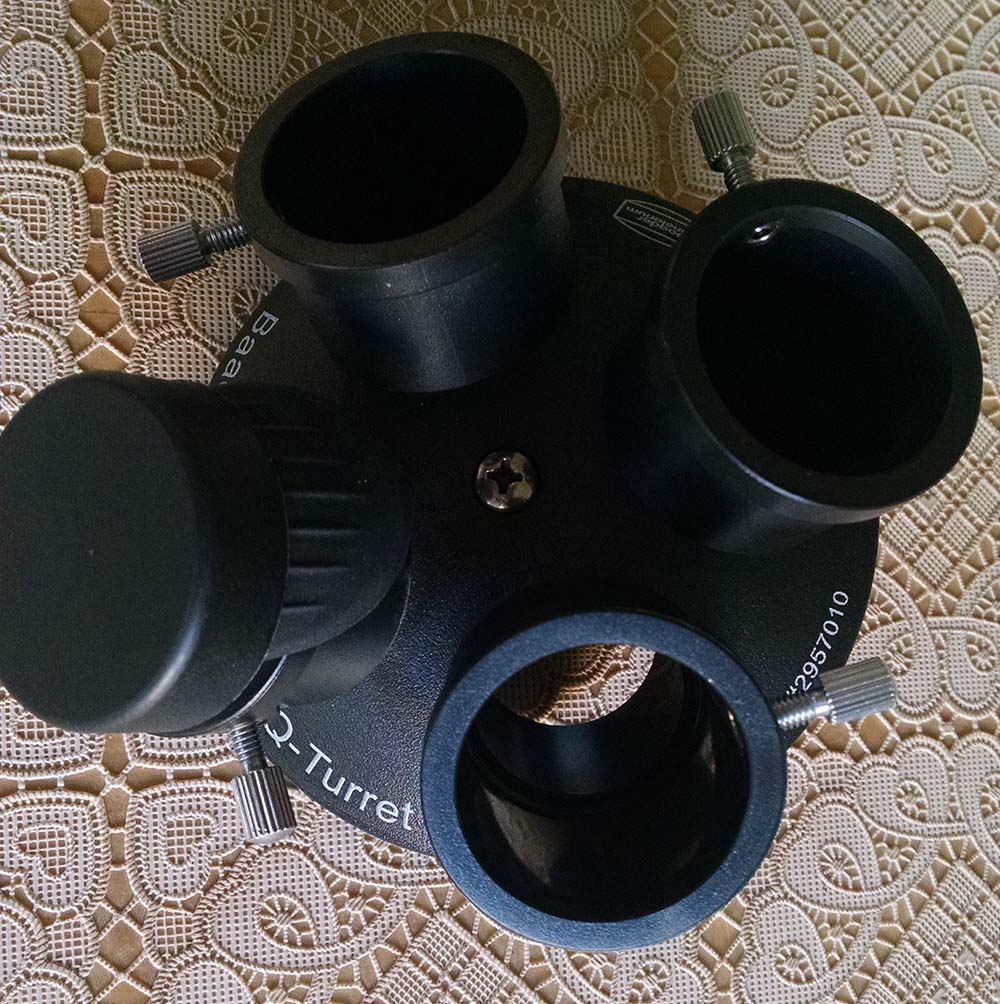 Its design is pretty clever: the nose barrel is inserted all the way into 1.25" diagonal, and EPs are perfectly aligned with minimum extra focuser travel added.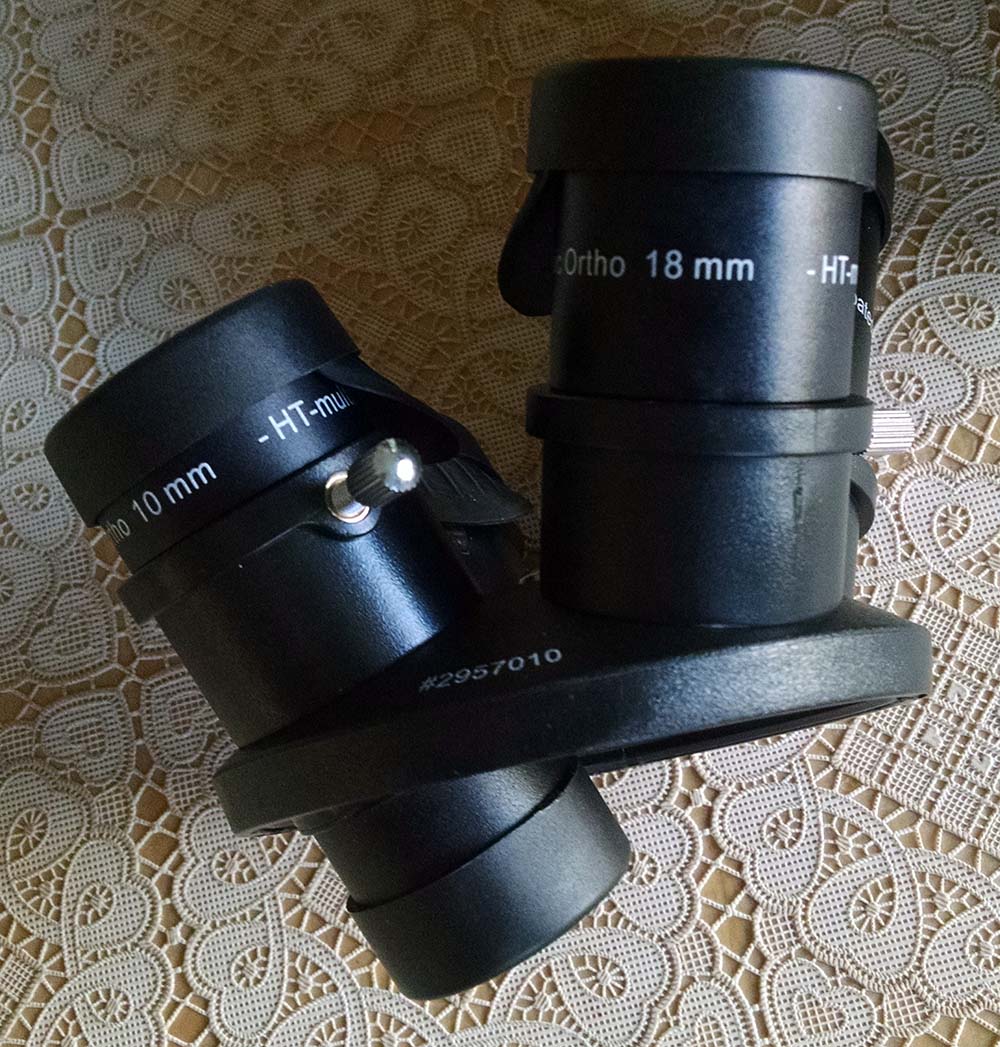 There are no multiple mirrors or prisms as in more expensive designs, which saves a lot of weight. It is all-plastic construction except metal screws. I don't mind it since the plastic seems to be sturdy enough and it is very light. I did not have any problem balancing it on my Onyx ED80 with very short dovetail.
It is a light duty turret designed for Orthos, Plossls and similar small lightweight EPs up to 5-6 oz. In addition to EPs included in this set, I have successfully used Q-turret with TV Plossls and Vixen SLVs.
The only feature I don't like is all-plastic locks (you can see one in the photo below), which fix the turret into position after each rotation. I feel that they will be first to break. Still, my turret is over 2 years old and is holding up well.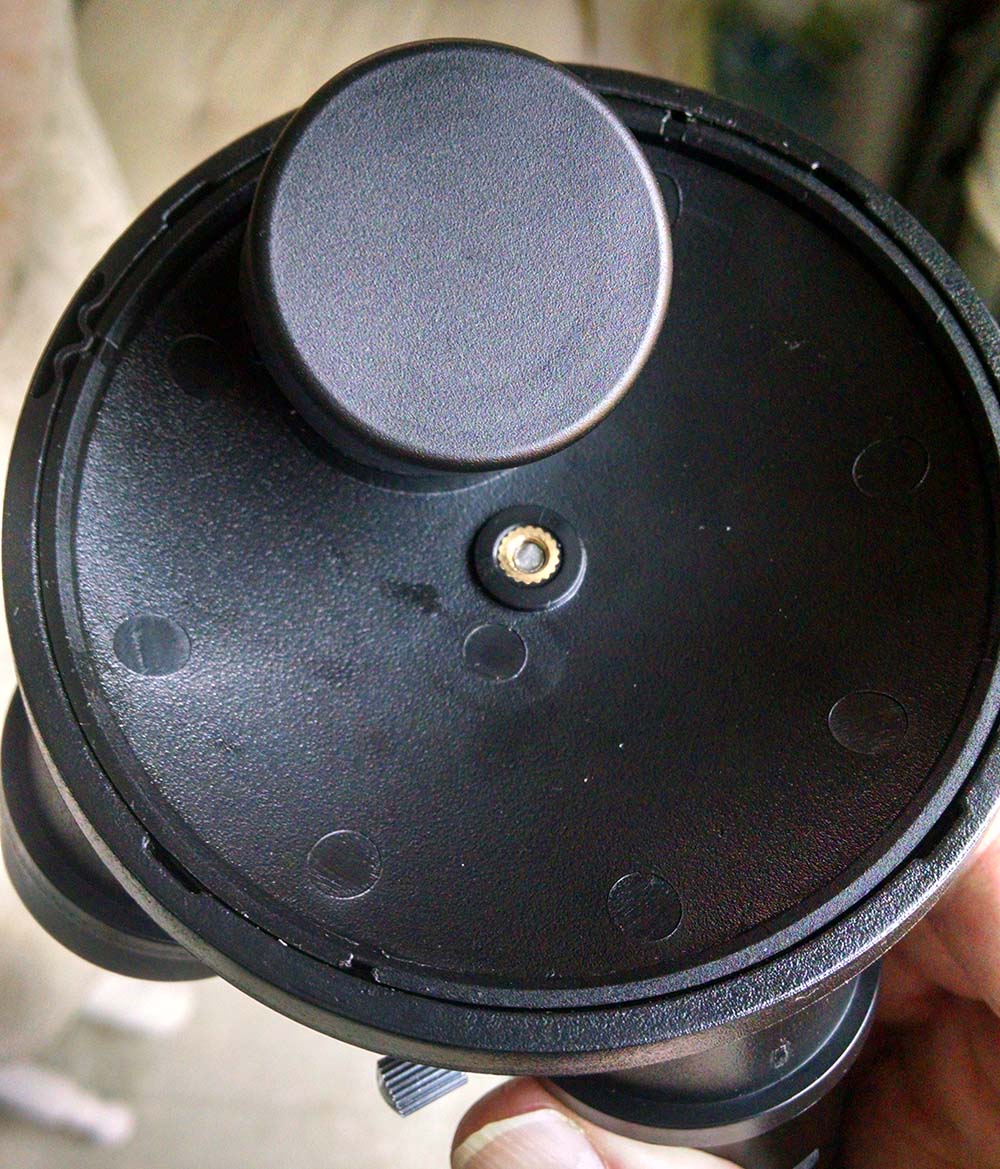 How does the turret help with a narrow FOV and short eye relief? You navigate to your target using 32mm Plossl, which has good eye relief and wide actual field of view due to low power (2.8 degrees in my Onyx 80mm F6.3 scope). Once you are on target you can flip to the next EP in a second with minimal focus adjustment due to the parfocal nature of the set.
In my case I navigate to the target (let's say Jupiter) with my eyeglasses on using 32mm Plossl. Then I take glasses off, adjust focus on 32mm and start flipping to higher powers. Even with manual mount the target hardly moves, since switching EPs is so fast.
I use mainly manual mounts and before I got the turret I would have to pull the low power EP out, insert high power EP in, take my glasses off, move my eye close enough for the short eye relief, and refocus, all before the target moves. Let's just say I run my eyeball into the EP on quite a few occasions. :)
The turret also makes EPs comparison very efficient, since you can notice even minor differences. This is how I did many of my "vs" reviews.
If you have more than one EP of similar focal length, you can put a nebular filter on one of the EPs and easily switch between filtered and unfiltered views.
You can also screw the nosepiece from Q-barlow into the Q-turret barrel which gives you advantage of using the barlow with all 4 EPs without a hassle. Although, I never had a need to do that. What I often end up doing instead is to leave it on 6mm, converting it to 4.6mm EPs.
You may have seen 'Zoom EP vs fixed focal length EP' discussions going on the forums. It is hard to beat the utility of the zoom EPs, but the consensus is that single focal length EPs typically outperform zooms. With EP turret you get ease of switching magnification without compromising the views.
The turret does add 38mm of in-focus travel. I did not run into any issues with my refractors or SCTs, but it might be an issue for some scopes. In this case you still end up with an excellent set of 4 EPs and a barlow, worth every penny.
In 2015 when I first discovered this set the US price was close to $400. I was psyched to get it for $275 on a Christmas sale in 2018. Now the list price at AgenaAstro is $249. Unbelievable value (no affiliation with Agena either :D).
https://agenaastro.com/baader-classic-q-eyepiece-set-2957000.html
Bottom line, the Baader 1.25" Classic Q-Eyepiece Set is a well-made, high quality product, which is fun to use. It provides unique utilities and delivers excellent views. I would highly recommend it to a beginner who is looking to upgrade the stock EPs that came with a scope and to the advanced user who is looking for a good quality minimal glass set.
Here is my Onyx 80ED set loaded with Q-turret and ready for action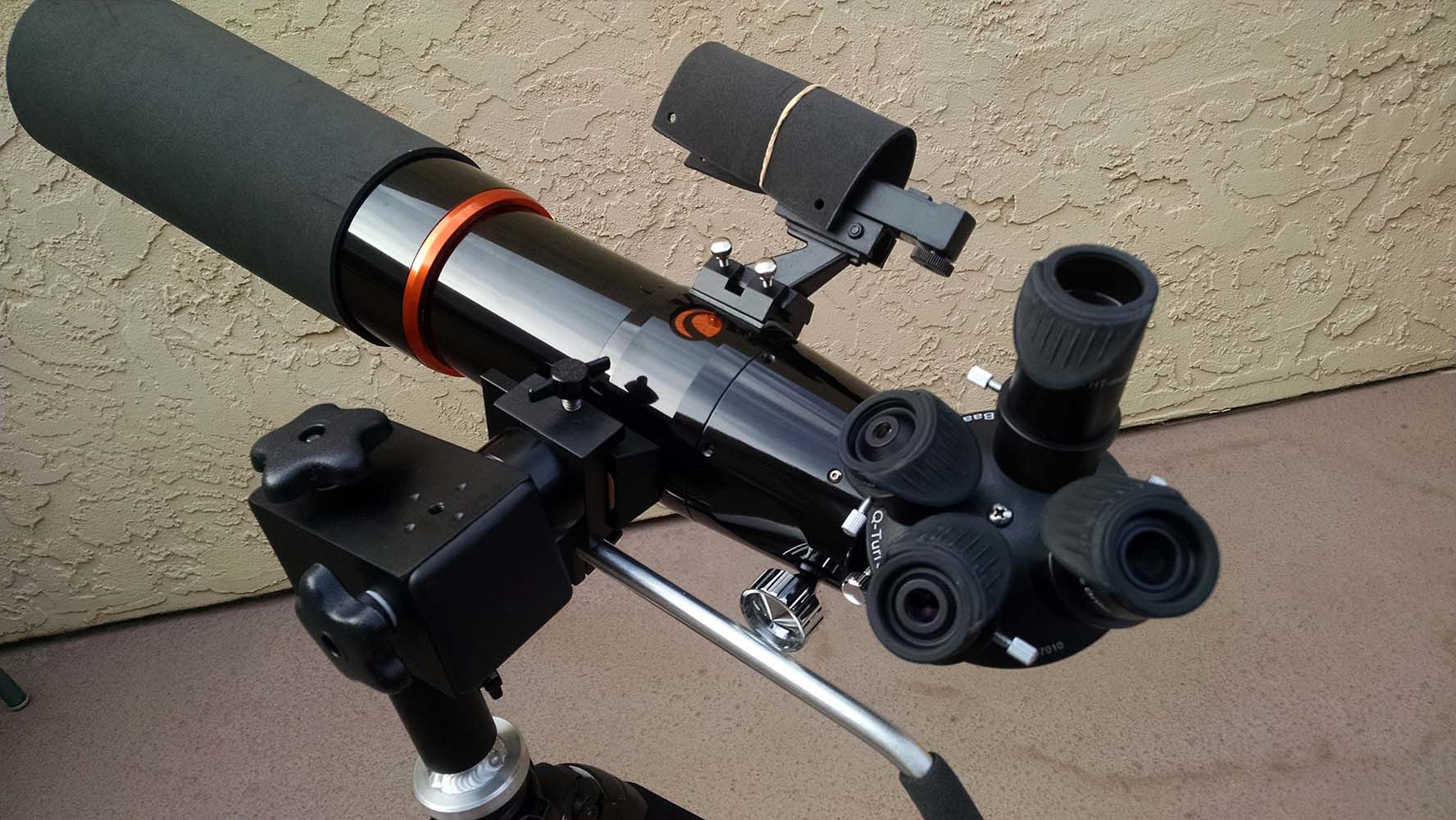 [ Comments (20) ] | [ Back ]