Reviews
[ Comments (4) ] | [ Back ]
APM 100mm 90 deg EDO-APO binocular telescope review
by Bigzmey
Anyone who looked through binoculars knows how enjoyable and relaxing is observing with two eyes. I always wanted to bring that experience to telescopes. My first try was last year with Orion binoviewer, which worked nicely for lunar and planetary. However, DSOs and double stars were too dim for my liking.
My binoviewer is a basic prism model, and there are other designs worthy of consideration. Still, consensus on forums is that binocular telescopes are more suitable for DSOs than binoviewers. Thus, I have started researching the field and narrowed down my choice to APM 100mm 90 deg model. I was aiming at first for the less expensive, plain (semi-APO) version, but at the very last moment upgraded to APO. I still feel that the plain version is just fine for DSOs, but since I also enjoyed splitting doubles, I decided to bite the bullet now so there will be no regrets later. After the first light I should say definitely no regrets. :D
The first look at the APM 100-90 ED APO BINO says quality. Materials, built, craftsmanship are all top notch. Essentially, these are two 100mm F5.5 APO/ED doublet (with FK61 glass) refractors in sturdy compact and lightweight magnesium alloy body. AMP binocular telescope (BT) weigh 16.4lb (about the same as my Celestron 150mm short tube achro refractor), and thanks to the well-positioned handle is very comfortable to handle.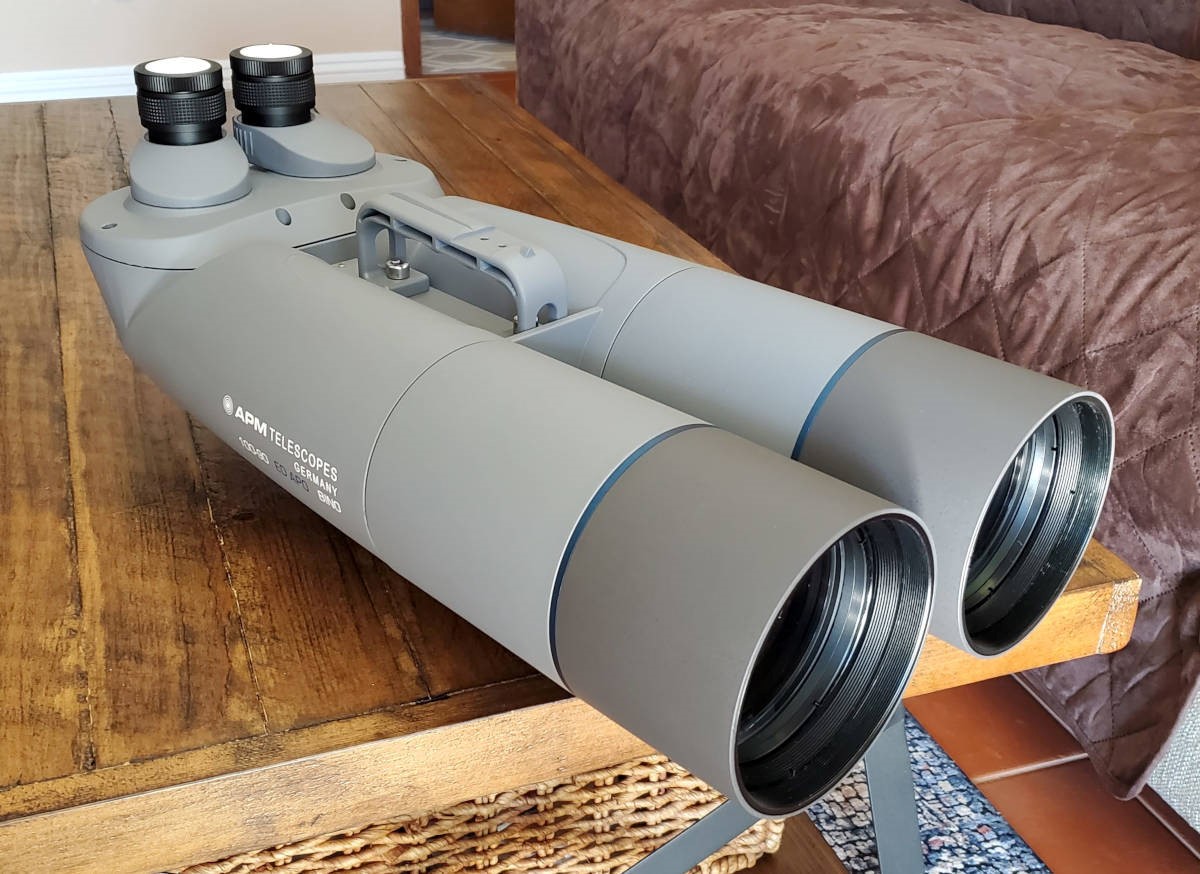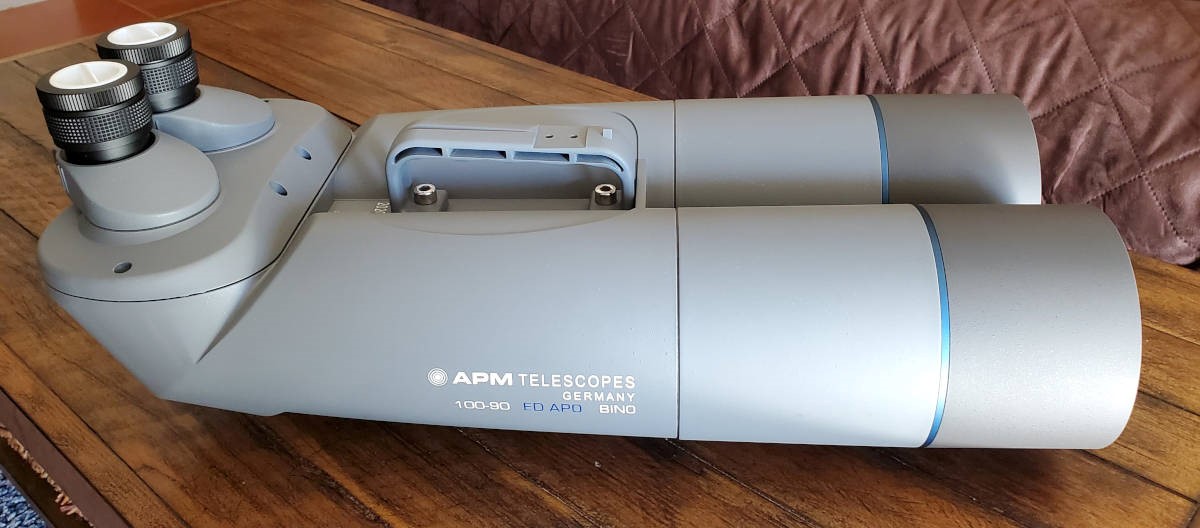 Optics
BAK-4 roof prism system converts image to true correct (up is up and right is right). Prism size is 28mm and focuser clear aperture is 25mm. This means that even widest 1.25" can be used without noticeable vignetting. Max true field of view (TFV) is 2.8 deg. To capitalize on that TFV one would be tempted to plug in a pair of 18mm 82 deg glass grenades and start observing. That however depends on how wide your face features are. Some are lucky to be able to observe with a pair of Pentax 20mm XWs. Unfortunately, I am on the other end of the distribution, and even included with APM BT 18mm ultra flat field EPs are too fat for me. I can't merge them without hearting my nose. There are still plenty of good quality EPs I can use, but they must be slim and typically in 40-60 deg FOV range.
APM 100-90 ED APO BINO comes with certificate that they are collimated and tested up to 100x power. That corresponds to 5.5mm EP. The working range is between 32mm (17x, 5.8mm exit pupil) and 5.5mm (100x, 1m exit pupil). This covers DSO observing nicely. It is also good for casual but not for in depth high power observing of the Moon and planets. Binoviewers though cover this kind of observing nicely.
Success of image merging at high powers depends to a degree on EP design. Wider FOV (larger field stop) and longer eye relief makes it easier. For instance, it was no effort for me to merge at 92x using Pentax XFs 12mm 60 deg + 2x barlow, while it took a few moments to merge with Baader Classic Orthos (BCO) 6mm. Also, I failed to merge images produced at 110x by 2x barrowed BCO 10mm, while was able with some effort to merge images at 129x produced by Pentax XFs 8.5mm + 2x barlow. Thus, if occasion call APM 100-90 ED APO BINO could be pushed beyond 100x, but it is the 17x to 100x range with effortless image merging where they really shine.
Been a fast refractor APM 100-90 ED APO BINO are sensitive to EP quality. I have a pair of BST flat field 19mm 65 deg EPs. On paper they should have produced a nice result: 29x, 3.5mm exit pupil and 2.2 deg TFV. They were the first EP pair I put in at night. I eagerly looked … something wrong with my binocular scope! The field looked massy with distorted stars close to the edge and unclean brighter stars. I have switched to Baader 32mm Plossl – much better! Ultra-sharp stars and flat field to the edge. I have tested a few other quality pairs including Vixen SLVs, Pentax XFs and BCOs. Same great result, except as I mentioned before BCOs 6mm took a few moments to merge.
The Moon and bright stars did not show any chromatic aberration (CA). Maybe a slight on Sirius.
Mechanics
Inter pupilar distance (IPD) range is 54mm to 75mm, wide enough to accommodate all those different faces we have discussed above. :) The adjustment mechanism is of right stiffness, so you set IPD once and forget. Binoviewer users would appreciate the twist self-centering EP locks. This is to make sure that EPs are well-centered and straight for easier image merging. Helical focusers are smooth and have enough travel to accommodate wide range of EP designs. There is even enough travel to use shorty 2x barlows. I don't have any full factor barlow pairs to try.
The heavy-duty metal handle is bolted securely to the body. It is well-positioned for a comfortable handling of the bino scope. It has a small sight which presumably could be used for aiming during the day. It also has a flat spot with two M5 threaded holes for finder attachment. I have a bunch of Synta style finder bases which I install on all my scopes. Luck has it one of those fits nicely. So, now I can use my favorite red dot on it.
Front end has slidable metal dew shields. They are adequate, but on a short side. I have immediately produced a couple of longer dew shields from 3mm black craft foam. :) The nice touch is that the objective dust covers are threaded on, so they won't fall off, and once secured they hold the dew shields in place.
Mounting the bino scope
Heavy duty mounting shoe is bolted securely to the body with two screws. I was relieved to see that in addition to the typical single 3/8"-threaded hole the mounting shoe bottom also has two ¼"-threaded holes which I utilized. I would not trust such heavy and expensive instrument to a single screw. The 3/8" hole also has a screw-in adapter to convert it to ¼".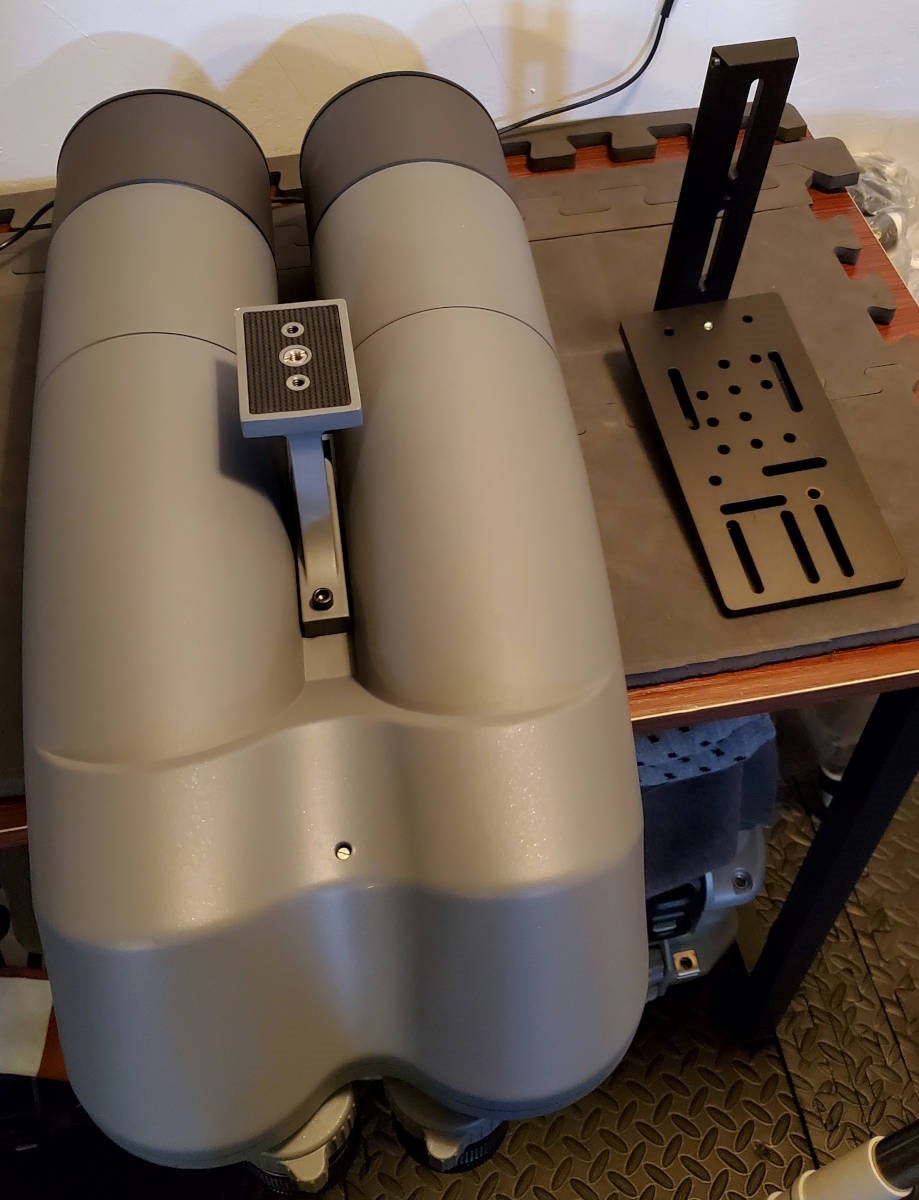 According to forums the most popular option of mounting bino scopes is a dedicated fork mount on a heavy-duty photo tripod. Another option I came by was a heavy-duty fluid video head. Both seems reasonable. However, I like to have slow motion controls on my scopes and was looking for a way to mount bino scope on one of my AltAz mounts. I found this Telescope Service L-bracket.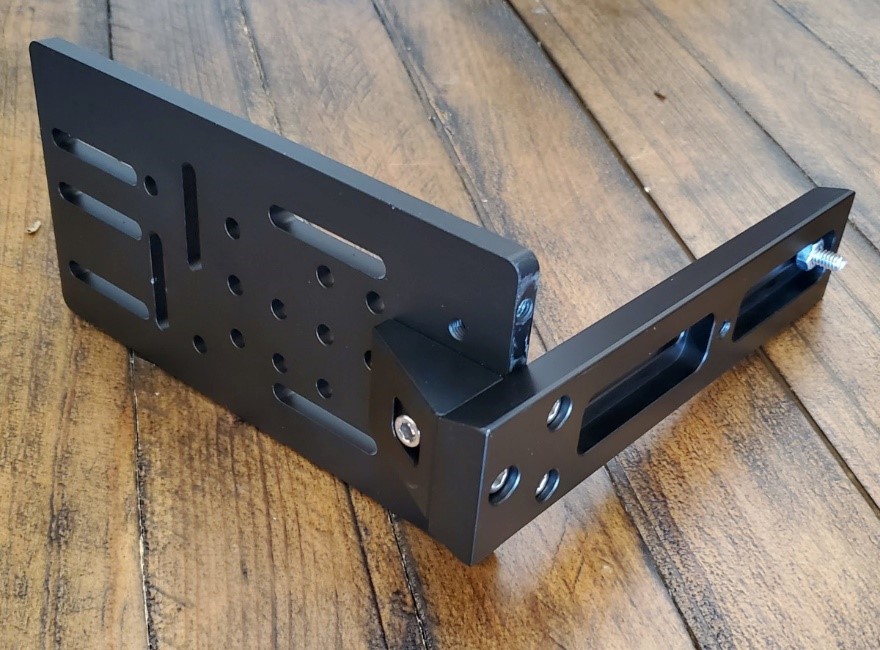 None of US dealers carries it, so I ordered one straight from TS. It looks even better in person. I have bolted it to the bino scope shoe with two M5 screws and installed another M5 screw to serve as a security catch on the Vixen style dovetail. The whole assembly is easy to carry and mount, and it is rides on my SW Skytee 2 mount very steady and securely. It is better be, since this is my most expensive scope by far. :lol: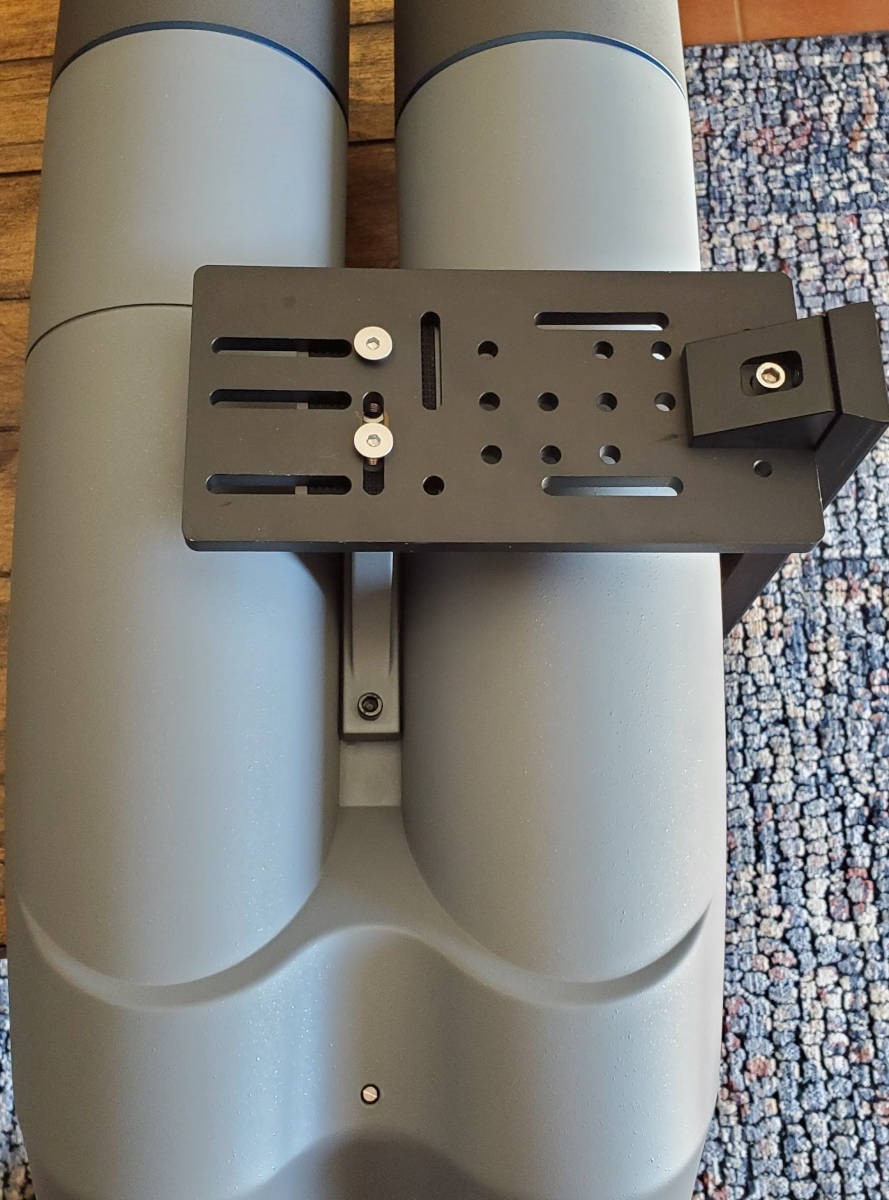 The bino scope is ready for action. :)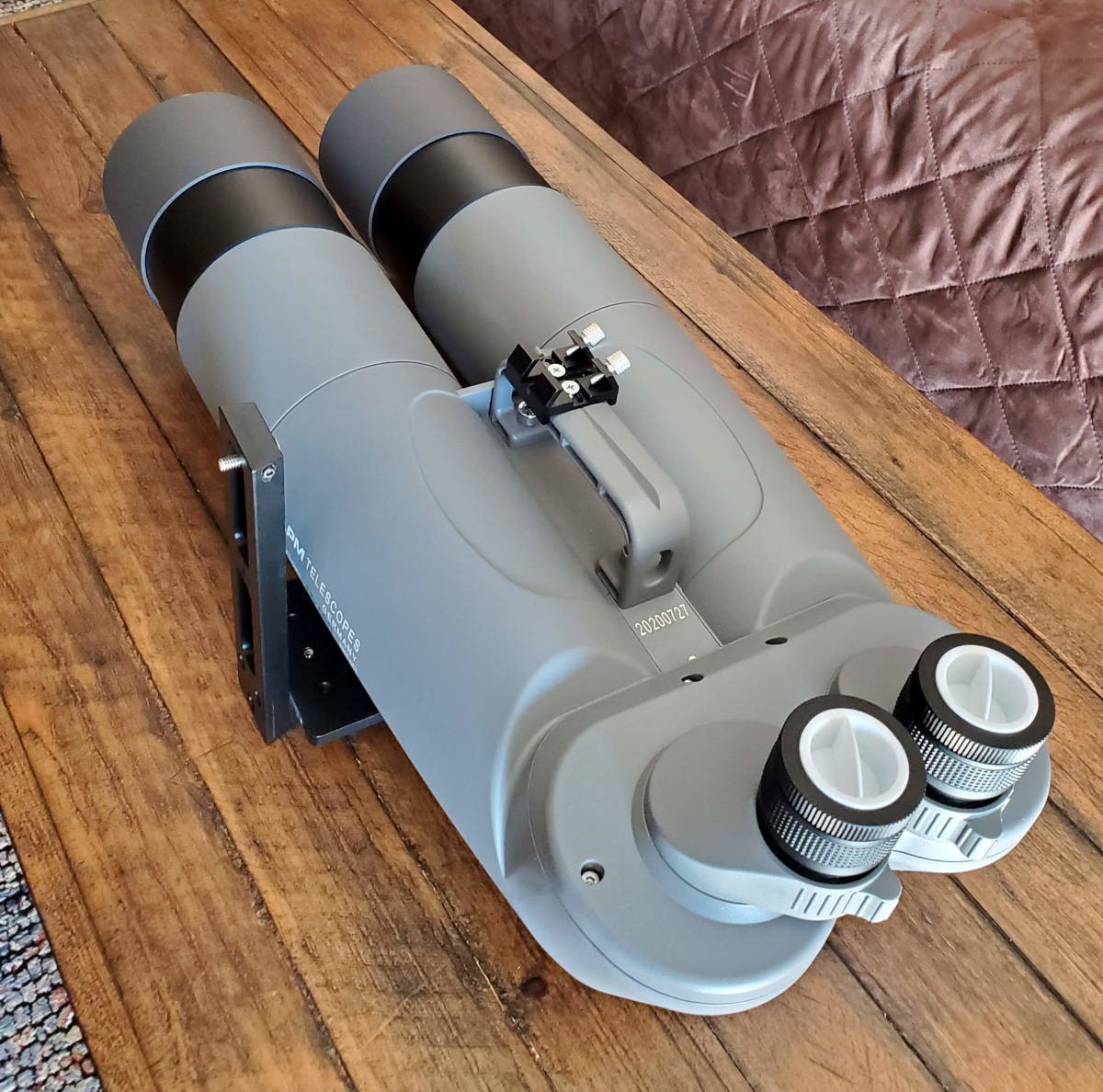 And installed on SkyWatcher Skytee 2 mount alongside Stellarvue 102mm ED refractor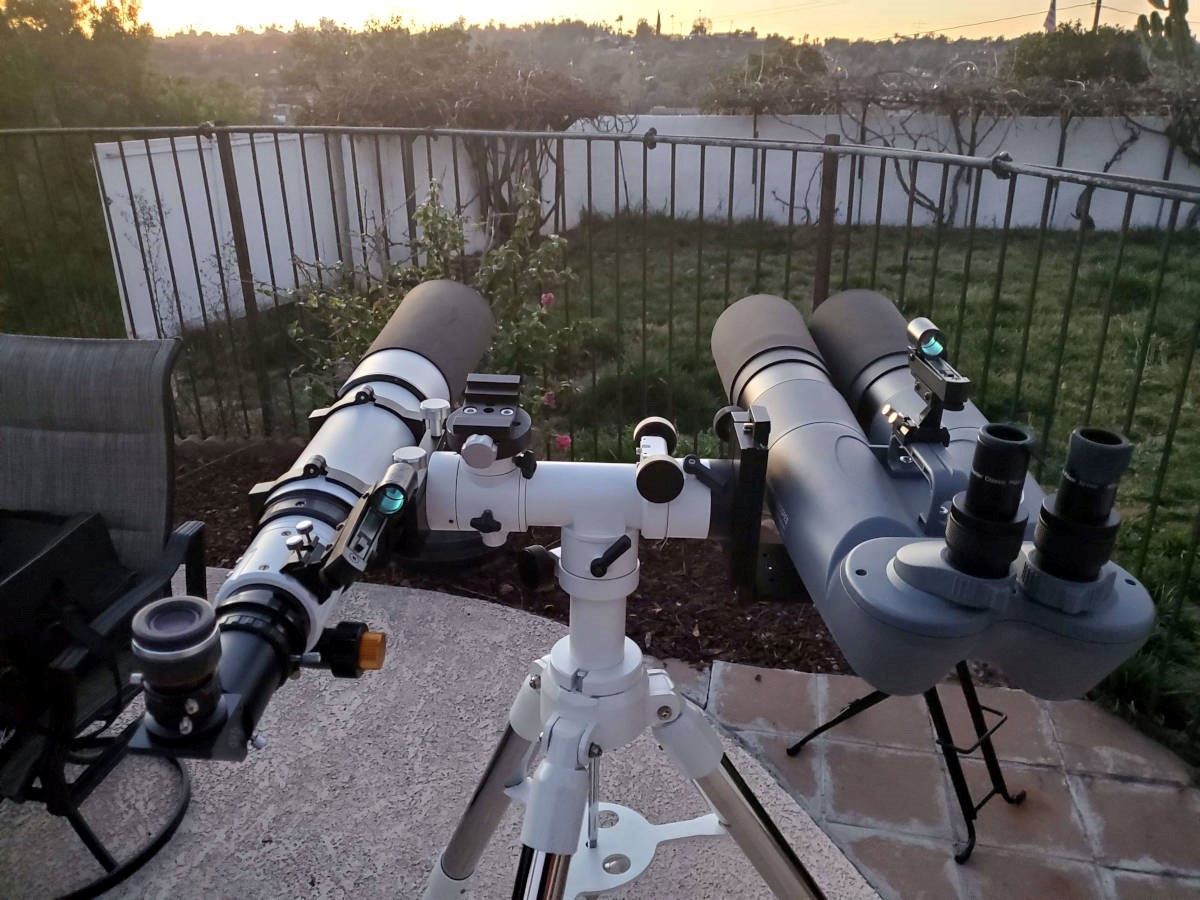 Binocular telescope vs binoviewer-equipped telescope vs mono telescope vs large binoculars.
In the past I have tried my Stellarvue 102mm ED refractor equipped with binoviewer on DSOs and the views were dim and disappointing. The basis for the differences between the two setups is that binoviewer splits the light coming from 102mm telescope so each eye gets half. In terms of amount of light reaching each eye binoviewer-equipped 102mm scope is an equivalent of 70mm binoculars.
On the other hand, with 100mm binocular scope each eye gets full amount of light from 100mm aperture and to achieve similar result with binoviewer one would need to use 140mm telescope. This is simplified analogy which does not consider differences in focal length and exit pupil achieved at the same power in smaller binocular and larger binoviewer-equipped telescope.
At first glance the view through bino scope seems similar in brightness compared to the mono scope of the same aperture. However, if you spend time comparing the views with one or both eyes in bino scope you will notice it is not the case. In fact, due to ability of human brain to integrate images from both eyes bino scope reaches far deeper. A whole additional layer of fainter stars not visible with one eye become visible with two, and on nebulous targets like Orion Nebula the faint portions grow 2-3-fold in size. I also noticed that faint targets and stars stood out easier against background, as integrating image with two eyes helped to improve signal to noise ratio.
Thus, in terms of target brightness different setups would line up as bino scope > mono scope > mono scope with binoviewer.
What about traditional binoculars? There are high quality 100mm models available and with ED glass. Assuming similar quality design/built they should gather same amount of light compared to binocular scopes. There are two main advantages justifying extra cost of binocular scope: 1) ability to change EPs and 2) 90 degree viewing position. I would say that 90 degree viewing position was the most deciding factor for me.
Observing
I had two sessions, 1/30/2022 and 2/6/2022 with APM BT, which gave me plenty of time to check variety of targets.
DSOs
I spent over an hour on the Orion Nebula, testing various EPs and bino scope limits. The nebula looked as great as I hopped, bright and rich in details with four Trapezium stars well resolved at 22x. It seems to me that the faint portion of the nebula extended much further than I typically seen, even with larger scopes. It could be because of unique combination of larger effective aperture and smaller exit pupil at low powers bino scope provides compared to mono scope.
Beehive (M44) in Cancer and M48 in Hydra were impressive with many sharp stars filling FOV. Both are large open clusters but fitted nicely within APM FOV with 32mm Plossls.
M78, reflective nebula in Orion was direct view object even at lowest power. At 46x it has shown the classic pattern of headlights in fog.
Crab Nebula (M1) was relatively large direct vision wide oval patch. Pentax XF 8.5mm pair (65x) has resolved filamentous edge, and Pentax XF 12mm with 2x barlow (92x) resolved darker and brighter structures within the nebula body.
I have also tried for some more challenging targets in Canis Major:
Basel 11A – mag 8.2, 9.2' open cluster. I kept increasing power until at 92x resolve a few dim stars scattered around a pair of bright stars.
Berkley 25 – 5' open cluster – faint small spot with averted vision (46x, 65x).
Berkley 36 – 5' open cluster – FAILED to detect any presence, which happens with unknown magnitude clusters.
Overall, DSO observing with two eyes was very engaging and relaxing and the views delivered by APM 100-90 ED APO BINO were sharp, flat, and refined. Can't wait to take it for a spin to the desert!
The Moon
Unfortunately, the planets have moved away until the next season, but the Moon looked great. Merging images from 32x to 92x was effortless. At 129x it took a few moments to merge, but after that I was was able to hold the view. Even at 129x whole Moon crescent fitted in FOV. Enough fine details were resolved to be entertained for hours. However, serious lunar enthusiast would be better off with larger aperture mono scope equipped with binoviewer (if seeing is good enough for high powers).
Doubles
I have split over a dozen doubles using APM 100-90 ED APO BINO and Stellarvue 102mm ED side by side. For the pairs split in 22x to 92x range of powers APM BT had clear advantage over SV102ED. I was able to resolve fainter components with APM and achieved splits at lesser powers. SV102ED however can be pushed to much higher powers (286x) and thus have an advantage on tight pairs. Still APM BT has split doubles down to 2.6" separation under poor seeing conditions. It should be able to go a bit deeper under better conditions. In any case thousands of doubles are within the reach of APM BT. Here are a few selected examples.
Hydra
STF 1207 – 8.8, 11.3, 12.9, ab13.9", ac 14.5", all white – I don't believe I ever managed to split double with component as dim as 12.9 mag with a 102mm scope. However, with APM bino scope at 92x B and C components popped into the view at the moments of better seeing.
STF 1215 – 11.4, 11.5, 11.7", very faint white pair. Not sure if I would be able to pull this split with mono 100mm telescope at 65x.
Orion
STT 90 AC – 7.0, 12.2, 39.5", yellow, white. APM BT/92x. Not detected with SV102/179x.
STF 614 AB, C – 9.1, 9.5, 4.4", white pair. Hair split APM BT/65x.
STF 622 – 8.5, 8.6, 2.6", white pair. Figure 8 split with APM BT/65x. Confirmed with SV102ED/119x.
STF 639 – 8.7, 9.5, 5.7" – uneven white pair, close split with APM BT/65x.
Taurus
STF 742 – 7.1, 7.5, 4.2" – tight pair of uneven white stars with APM BT/46x.
Conclusions
APM 100-90 ED APO BINO has passed first light with flying colors. I believe this is the first telescope I own where I can't pick any weaknesses in the design or execution.
The brightness, sharpness, and quality of views of DSOs, doubles and Moon have exceeded my expectations. Viewing with two eyes was very natural and relaxing. Merging images was effortless in 17x to 92x range on DSOs and Moon. Some doubles in particular in the empty fields took some effort to merge at 92x, and for all targets it took more effort to merge at 129x.
The only other little nuisance is the requirement to switch two EPs every time instead of one. Add to that two barlows and you run out of hands and pockets in no time. :lol: One could address this with a good quality zoom EPs. I just need to find a pair which works for me.
[ Comments (4) ] | [ Back ]